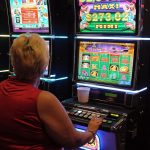 The sound of a tinkling of coins shattering on the collecting tray of the slot machine is sure to excite the player. Poker has been a game that has won many hearts, and this has been the case for many years now. From 2003, or so, there has been a steady growth of the popularity of Poker game. The poker slot machines in land-based casinos and even online have been a major draw.
While in the past, only those who loved to play Rummy or Bingo or even the lottery would go to a casino, pokies have changed the scene a great deal. Today, pokies draw as many gamers individually to the casinos. This is a phenomenon across the world, including countries like Australia. However, the biggest numbers of pokies players are in the suburbs or in the villages of Australia. Here, there are small communities of poker players who have lost more than they can ever recover and yet, most of them are not able to give it up.
The Magnetic Charm of the Poker Games
Few people have family members who were gambling addicted. Many people who have had generations of family members playing poker are not able to give it up and yet, they have realized that they have lost more than they can chew.
There are people like Ross Davey, who used to have a home, and a job, all that he lost thanks to his addiction to poker. There are also people like Allison Keogh, the spokesperson of Alliance for Gambling Reform who speaks out about how this habit of poker existed in her family from her mother. Her childhood saw her mother spending money behind these slots. However, in her own life, Allison Keogh regrets of the money she has lost.
The Compensation for the Loss- Just a Minor One
Though many local casinos claim that they use a fair percentage of the profit in setting up parks and other recreation for the society, this is not actually making up for the loss. This is a general feeling, and this is not just a case of sour grapes. But the fact exists that people are addicted to pokies and it is not helping the economy of a place by any big way. There is a large number of people facing unemployment and lack of opportunities as well.
However, one has to note that there are a certain set of slot machines that fool the people and cheat them too with their 'misinformation'. In recent days, a former gambling addict in Australia has used the Aristocrat Technologies and Crown Casino for offering slot machines, which deceive players with wrong sounds and indications. The case has become the talk of the town more so because it shall change the attitude of the game developers and take the slot machine manufacturer seriously. It shall also help in making the local people wake up to the addiction of pokies that has gripped them.